---
Our Mission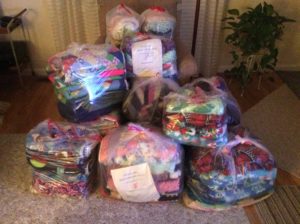 The mission of Greater Boston Area Project Linus is twofold:
To provide the comfort and security of a handmade blanket, quilt or afghan to any child who may be in need of extra consolation due to severe illness, trauma, and/or other needs.
To provide a fun and rewarding service opportunity for individuals and groups of any age with varied skill levels in the Greater Boston Area that benefits local children.
Greater Boston Area Project Linus is an affiliated local chapter of the national Project Linus organization. Read more about the national organization by visiting http://www.projectlinus.org/.
---
Who We Are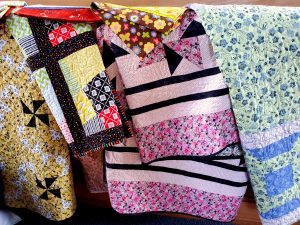 We are mothers, fathers, grandmothers, aunts, friends, scouts, children, nurses, teachers… anyone who wants to help. Greater Boston Area Project Linus is a 100% volunteer organization. We are quilters, knitters, crocheters, and also folks who have never tried a craft before but are willing to put in a little time. We are people who care about bringing comfort to children when they might need it most.
---
BLANKET NUMBERS
Nationally, since 1995, Project Linus has contributed over 7 million blankets! As of today, Greater Boston Area Project Linus has delivered 79,900 blankets to area children in need of comfort.
---
PROJECT LINUS HISTORY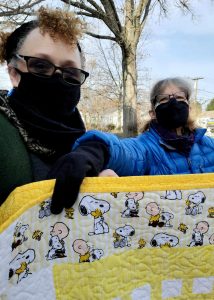 After bring inspired by a photograph and article in Parade Magazine about a 3 year old's attachment to her blankie during aggressive cancer treatments, the first Project Linus chapter was formed in 1995, by Kathy Loucks, in the Denver, Colorado area.
Through the support of the National organization, Project Linus is run by volunteers in locally run chapters that distribute blankets to hospitals, shelters, social service agencies, organizations or individually to any child that may be in need of the comfort a blankie can bring. We support all kids from premature infant to older teens.
Today there are hundreds of Project Linus chapters across all 50 Unites States, providing a creative community service outlet to thousands of volunteers, and providing comfort to thousands of children.
To read more about our national organization check out http://www.projectlinus.org.
---
OUR CHAPTER STORY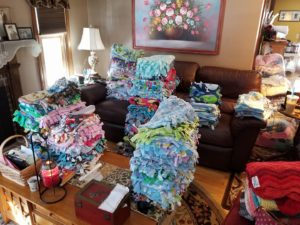 Nancy Kearns lives in Milton and is happy to be the contact for parts of Boston and towns south of Boston. In 2001 her son Chris & his wife Amy lost their infant daughter Olivia at birth. Becoming a part of Project Linus became a wonderful way of turning a devastating event into a way to cheer other families and meet some wonderful, generous people!
Gloria Mozzicato's son was hospitalized on several occasions in his first three years, at a time when parents were not allowed to stay overnight nor bring blankets or toys from home. Always wishing to find a way to comfort children in that stressful situation, she found her answer in 1998 in Project Linus.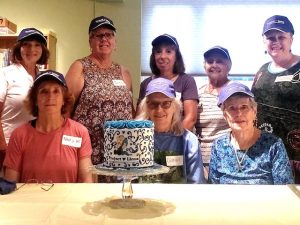 Dianne McAdam lives in Newton and has enjoyed knitting and crocheting since she was a little girl. She discovered Project Linus when she was looking for an organization that would distribute blankets to children of all ages. She has experienced the joy and comfort that blankets can bring to children in difficult situations.